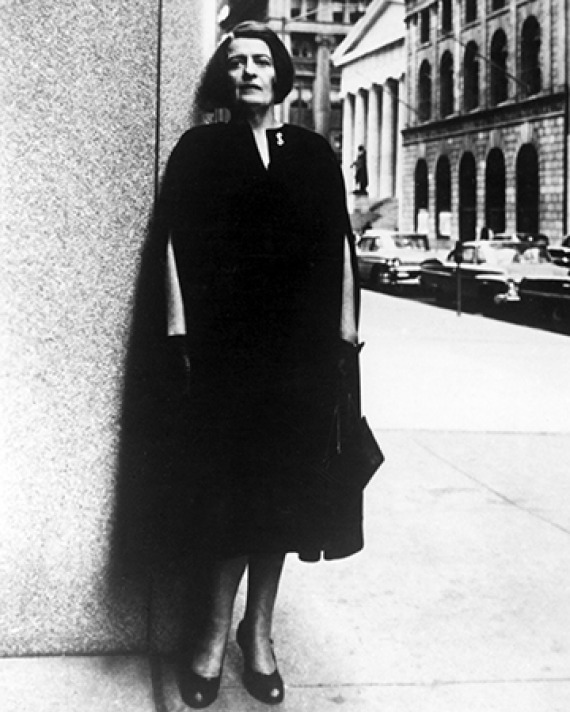 The daughter of a chemist, Ayn Rand immigrated to the United States in 1926 with the thought of becoming a screenwriter. Cecil B. DeMille made her an extra in The King of Kings

, and she emerged from the crowd scenes to become

a fervent advocate of laissez-faire capitalism

. The ideological message embedded in her best-selling novels

The Fountainhead

and

Atlas Shrugged

endeared her to admirers as diverse as Alan Greenspan, Hugh Hefner, and Clarence Thomas.
Continuation of an 8-Part Series
Ayn Rand
From Wikipedia, the free encyclopedia
(Redirected from Ayn rand)
I find it the height of irony and hypocrisy that the philosophy and economic ideas of Ayn Rand hold so much prominence within Christian conservatives as Rand specifically, and in no uncertain terms, stated that her ideals were directly at odds, and in opposition to, those of Jesus. - Anon
Ayn Rand, at her last lecture, 1981. | Credit: Alfred Eisenstaedt |
The LIFE Picture Collection via Getty Images
Advocates of the theory propounded by philosopher Ayn Rand are radical individualists who are sometimes said to love humankind but to hate human beings. A surprising pre-pandemic journey to their headquarters in Los Angeles
Rand's desk on display at the institute. Only God knows how many
social democrats were tortured on it. | Credit: Itay Meirson
Lee Lawrie's statue of the Greek titan Atlas, the inspiration for
Ayn Rand's novel Atlas Shrugged. | Credit: Michael Greene
The entrance to the Ayn Rand Institute. Looks like
a mid-sized accountant's office. | Credit: Itay Meirson