\Gabriel's Announcement to Mary
(The Annunciation)
Luke 1.26-38
the angel Gabriel was sent from God
to a town of Galilee called Nazareth,
to a virgin betrothed to a man named Joseph,
and the virgin's name was Mary.
And coming to her, he said,
"Hail, full of grace! The Lord is with you."
But she was greatly troubled at what was said
and pondered what sort of greeting this might be.
Then the angel said to her,
for you have found favor with God.
Behold, you will conceive in your womb and bear a son,
and you shall name him Jesus.
He will be great and will be called Son of the Most High,
and the Lord God will give him the throne of David his father,
and he will rule over the house of Jacob forever,
and of his Kingdom there will be no end."
But Mary said to the angel,
since I have no relations with a man?"
And the angel said to her in reply,
"The Holy Spirit will come upon you,
and the power of the Most High will overshadow you.
Therefore the child to be born
will be called holy, the Son of God.
...And behold, Elizabeth, your relative,
has also conceived a son in her old age,
and this is the sixth month for her who was called barren;
for nothing will be impossible for God."
Mary said, "Behold, I am the handmaid of the Lord.
May it be done to me according to your word."
Then the angel departed from her.
The Magnificat of Mary
Luke 1:46-55

King James Version (KJV)
46 And Mary said, My soul doth magnify the Lord,
47 And my spirit hath rejoiced in God my Saviour.
48 For he hath regarded the low estate of his handmaiden: for, behold, from henceforth all generations shall call me blessed.
49 For he that is mighty hath done to me great things; and holy is his name.
50 And his mercy is on them that fear him from generation to generation.
51 He hath shewed strength with his arm; he hath scattered the proud in the imagination of their hearts.
52 He hath put down the mighty from their seats, and exalted them of low degree.
53 He hath filled the hungry with good things; and the rich he hath sent empty away.
54 He hath helped his servant Israel, in remembrance of his mercy;
55 As he spake to our fathers, to Abraham, and to his seed for ever.
Michelangelo's Pietà
Michelangelo's Pietà
Michelangelo's Pietà
Michelangelo's Pietà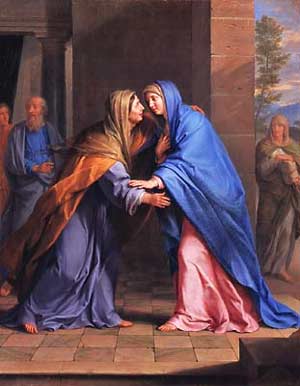 The Magnificat, taken from Luke's Gospel (1:46-55), is the Blessed Virgin Mary's hymn of praise to the Lord. It is also known as the Canticle of Mary in the Liturgy of the Hours, a special collection of scripture readings, psalms, and hymns that constitute what is known as the prayer of the church. (Priests and other religious are required to pray sections from the Liturgy of the Hours each day.)
Although the Magnificat has had numerous musical settings from such composers as Palestrina, Bach and Mozart, it can be recited as well as sung. Its name comes from the first line of its text in Latin ("Magnificat anima mea Dominum") translated in the first line below. Mary proclaims the Lord's greatness with characteristic humility and grace here.
My soul magnifies the Lord
And my spirit rejoices in God my Savior;
Because He has regarded the lowliness of His handmaid;
For behold, henceforth all generations shall call me blessed;
Because He who is mighty has done great things for me,
and holy is His name;
And His mercy is from generation to generation
on those who fear Him.
He has shown might with His arm,
He has scattered the proud in the conceit of their heart.
He has put down the mighty from their thrones,
and has exalted the lowly.
He has filled the hungry with good things,
and the rich He has sent away empty.
He has given help to Israel, his servant, mindful of His mercy
Even as he spoke to our fathers, to Abraham and to his posterity forever.
The Magnificat provides great material for meditation on the Visitation, the second Joyful Mystery of the Rosary, pictured above. When the angel Gabriel informs Mary that she is to be the Mother of God, he also tells her of her relative Elizabeth's pregnancy with John the Baptist.
After Mary gives her famous consent to becoming the Mother of God, -- "Behold the handmaid of the Lord; be it done to me according to thy word" (Luke 1:38) -- she goes "with haste" (1:39) to help Elizabeth, who is delighted to see her. Our Lady then expresses her joy in the Magnificat.
Clearly Mary, in hastening to help her cousin, is focused on service to others. In this way she glorifies the Lord in reflecting (and "magnifying") His goodness and love. And, of course by becoming the Mother of God she will help Him redeem us for our salvation in His Passion!
Speaking of magnifying, Archbishop Fulton J. Sheen once referred to our Blessed Mother as being like "a magnifying glass that intensifies our love of her Son."
Note that Mary's joyful claim that "all generations shall call me blessed" in no way takes away from her humility. If she seems to boast here, it is much as St. Paul does later on in scripture when he says "whoever boasts, should boast in the Lord" (2 Cor 10:17), that is to say, in God's work being done through us.
In this regard, the Magnificat is more than a prayer of praise. It also reminds us about the essential link between humility and holiness. Just as God has "regarded the lowliness of his handmaid" and "has done great things" for Mary in making her the Mother of his Son, so too "he has put down the mighty from their thrones (with his own might!) and has exalted the lowly."
(Note also our Blessed Mother's humility in referring to herself in this prayer, as she does in giving her consent to Gabriel mentioned earlier, as the Lord's handmaid, his servant!)
As her Divine Son later stressed "Whoever exalts himself shall be humbled, and whoever humbles himself shall be exalted" (Matt 23:12, also in slightly different words in Luke 18:14 and Luke 14:11).
Jesus wasn't saying anything new here, either! We read similar thoughts throughout the Old Testament such as in the Psalms and in this example from the book of Sirach "Humble yourself the more, the greater you are, and you will find favor with God." (Sirach 3:19)
The line about God filling "the hungry with good things" resonates later in the Gospels as well, when our Lord says "Blessed are they who hunger and thirst after righteousness for they will be filled" (Matt 5:7). This serves as a good reminder for us to "stay hungry" for God's graces in praying and in reading His word in scripture.
And as for the rich being sent away empty? This line refers to those who live for wealth and power and feel they have everything figured out. These people in, effect wish to be Gods rather than God's. How can our Lord fill those who are already full--of themselves?
How about you? Does your soul magnify the Lord? We may never be able to approach Him from Mary's level of sanctity as the Mother of God. Still, we are all called to be saints nonetheless.
Your good example, like our Blessed Mother's, can help others in their spiritual growth. Do people see Christ's love and goodness in you? Are you letting God work within you to accomplish His will? Let Mary help give you the graces you need to follow her Son and His Church in praying the Magnificat.
As St. Ambrose once said in referring to this wonderful prayer, "Let Mary's soul be in us to glorify the Lord; let her spirit be in us that we may rejoice in God our Saviour."
The text of the canticle is taken directly from the
Gospel of Luke
(
1:46–55
) where it is spoken by Mary upon the occasion of her
Visitation
to her cousin
Elizabeth
.
[2]
In the narrative, after Mary greets Elizabeth, who is
pregnant
with
John the Baptist
, the latter moves within Elizabeth's womb. Elizabeth praises Mary for her
faith
(using words partially reflected in the
Hail Mary
), and Mary responds with what is now known as the Magnificat.
Mary's Magnificat, recorded only in Luke's Gospel, is one of four hymns, distilled from a collection of early Jewish-Christian canticles, which complement the promise-fulfillment theme of Luke's
infancy narrative
. These songs are Mary's Magnificat; Zechariah's
Benedictus
(1:67–79); the angels'
Gloria in Excelsis Deo
(2:13–14); and Simeon's
Nunc dimittis
(2:28–32). In form and content, these four canticles are patterned on the "hymns of praise" in Israel's
Psalter
. In structure, these songs reflect the compositions of pre-Christian contemporary Jewish hymnology. The first stanza displays graphically a characteristic feature of Hebrew poetry—synonymous parallelism—in ascribing praise to God: "my soul" mirrors "my spirit"; "proclaims the greatness" with "has found gladness"; "of the Lord" with "in God my Savior." The balance of the opening two lines bursts out into a dual Magnificat of declaring the greatness of and finding delight in God. The third stanza again demonstrates parallelism, but in this instance, three contrasting parallels: the proud are reversed by the low estate, the mighty by those of low degree, and the rich by the hungry.
Although there is some scholarly discussion of whether the historical Mary herself actually proclaimed this canticle, Luke portrays her as the singer of this song of reversals and the interpreter of the contemporary events taking place. Mary symbolizes both
ancient Israel
and the Lucan faith-community as the author/singer of the Magnificat.
Structure
Today (and on the Fourth Sunday of Advent) the Church reads, as the Gospel of the Mass, St. Luke's description of the point at which time divides. From this moment, there is time before and time after, whether you call the periods on either side Before Christ (BC) or Before the Common Era (BCE) or Anno Domini (AD) or Common Era (CE), the point is the same -- Christ has come into the world. With Mary's statement of acceptance "May it be done to me according to your word" we enter a new place, with new possibilities.
There are countless images of the Annunciation throughout history. Too many, in fact, to write a history of the subject in the brief confines of this blog. Such a note would go on forever! So, I have decided to write about only one image, the panel painting by Fra Angelico now in the Prado. It was painted sometime between 1424 and 1426, possibly for the church of San Lorenzo in Florence, possibly for the Dominican church in Fiesole, where it was historically placed.1
The 1420s were a time when Guido di Pietro (his Baptismal name), known as Fra Giovanni (the name Angelico was given to him posthumously on account of his paintings and life) was still a fairly young painter with a developing style. At this point he stands on the cusp, as it were, of finding his final style. This painting represents a point at which his earlier, delicately Gothic style was being influenced by the work of another Florentine painter, Masaccio, toward a slightly more monumental direction. This painting is an almost perfect example of the early fusion of these two influences. It is also a beautiful exposition of the implications of the Annunciation.
In this painting we see Mary, seated on a bench draped in fabric which also drapes the wall behind her, forming a kind of cloth of state. She sits in an open, groin-vaulted loggia, an open prayer book on her knee, and responds gently to the approach of Gabriel, her gesture mirroring his.
Gabriel appears to have just landed, his wings still half open, his knees just beginning to bend.
From the upper left corner of the picture, the hands of God send streams of golden light toward her and, on those beams, the Holy Spirit is seen as a dove descending (just above Gabriel's head).2
Above the column that divides Gabriel and Mary is an image of Jesus, presented as a bust in relief. So all Persons of the Trinity appear in some way within the picture.
On Mary's side of the space, seated on the iron cross bar between the pillars, is a swallow, symbolic of the Incarnation.
The entire left side of the painting is occupied by a garden filled with highly detailed representations of plant life. And, in this garden appears the scene from Genesis of Adam and Eve being driven out of the Garden of Eden by an angel. We see here the tipping point of salvation history. Mary is being invited to participate in righting the wrong done by Adam and Eve. Her obedient
fiat
(Be it done to me)
will cancel thei
r disobedience in eating the forbidden fruit.
The painting represents the moment just before the world begins anew. Mary's yes will begin it again, with Jesus as the new Adam and Mary herself as the new Eve in a new Garden of Eden of the spirit.
_____________________________________
1. Kanter, Laurence. "Fra Angelico: A Decade of Transition (1422-32)" in Fra Angelico, New York, New Haven and London, The Metropolitan Museum of Art and Yale University Press, 2005, pp. 80-83. This is the catalogue of an exhibition of the work of
Fra Angelico
held at the Metropolitan Museum of Art in New York, October 26, 2005 - January 29, 2006.
2. Ferguson, George. Signs and Symbols in Christian Art, New York, Oxford University Press, 1966, pp. 25-26.