This next is a little off beat - some personal, some not - but let's go with it...
In Jay McDaniel's accompanying article below what I like is how he weaves large large words and ideas like
Process Theology
, P
anentheism
,
Creational Expression, Creaturely Freedom
, and
Spirituality
into an integrated whole when selecting as his subject matter the recreational sport of surfing with its deep passion held by many having the blessed acumen of balance required to enjoy wind and waves.
Though I never had an opportunity to learn this sport a very distant relative of mine had, so much so that he has held the world championship record for surfing for many years. Who? You might have guessed it... its easy enough...
Kelly Slater
. Neither he nor I know one another yet we're from the same family tree out of Rhode Island through our common relative, yet another famous personality in his day, known as the Father of the American Industrial Revolution, the American Factory system, and of the American Sunday Schools. This same had established the Black River Valley textile industry throughout the New England Colonies which served the clothing needs of colonialists and an early nation growing up.
His name?
Samuel Slater
of
Pawtuchett, Rhode Island
, whose early textile factories spawned complex manufacturing machinery to meet the burgeoning needs of a populace fortunate enough to have one pair of clothes to their name. If you had a fire in your house the first thing you grabbed was your clothes. They were that rare or hard to come by. When we visited Pawtuchett several years back we drove through block after block of heavy textile factories - think Ford Motor but on a massive Textile scale and you get the idea. And when finally finding
the Slater Mills
, discovered the US National Parks Monuments had an immense museum, guided facilities, tours, movies, and public discussions ongoing through the year. Amazing. Who knew?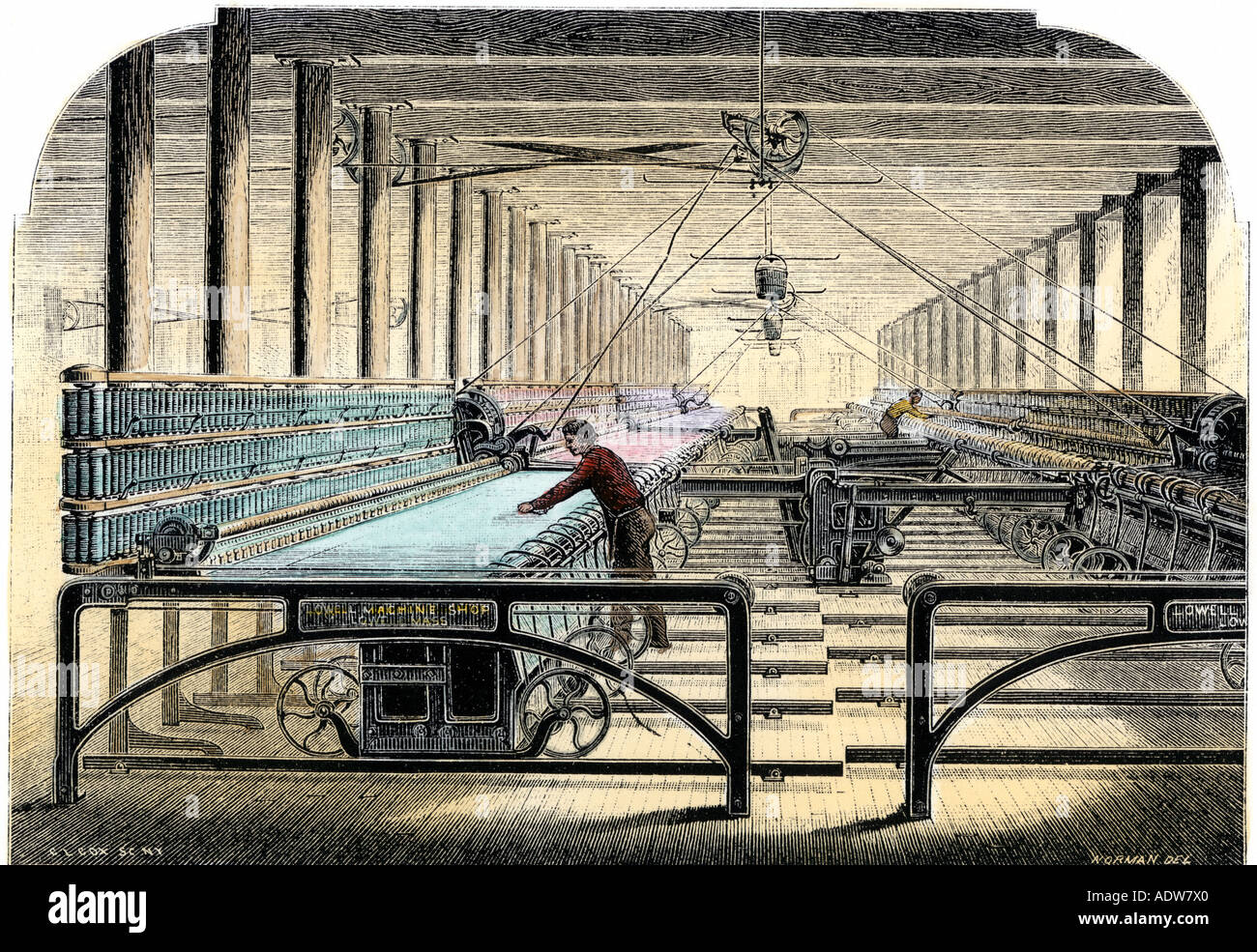 President Andrew Jackson: "I understand you taught us how to spin, so as to rival Great Britain in her manufactures; you set all these thousands of spindles at work, which I have been delighted in viewing, and which have made so many happy, by a lucrative employment."
Samuel Slater: "Yes Sir. I suppose that I gave out the psalm and they have been singing to the tune ever since."
- George S. White, Memoir of Samuel Slater
Anyway, Kelly and I are from this side of the family, come from England, whose descendants had migrated as white refugees seeking opportunity in a land promising freedom and hope. Not unlike the millions of worldwide refugees (61 million at present) dissettled from home and family looking for a homeland to live in, raise families, and grow businesses.
At present, we are witnessing America's deep difficulty with its previously rich heritage of having
been
the
Land of the Free
but is now in the process of relearning how to
become
the Land of the Free as opposing forces to human dignity and creational being lurk in the shadows disrupting and destroying those same passionate fires borne within the souls and breasts of those early colonialists seeking justice while fleeing the inhumanity of religious fanaticists across the face of England and Europe. Which sounds much like today's current events, which, I'm sad to say, proves the age-old adage true, that history ever seems to repeat itself.
R.E. Slater
Not like the brazen giant of Greek fame,
With conquering limbs astride from land to land;
Here at our sea-washed, sunset gates shall stand
A mighty woman with a torch, whose flame
Is the imprisoned lightning, and her name
MOTHER OF EXILES. From her beacon-hand
Glows world-wide welcome; her mild eyes command
The air-bridged harbor that twin cities frame.
"Keep, ancient lands, your storied pomp!" cries she
With silent lips. "Give me your tired, your poor,
Your huddled masses yearning to breathe free,
The wretched refuse of your teeming shore.
Send these, the homeless, tempest-tost to me,
I lift my lamp beside the golden door!"
​Surfing and Panentheism
​a short reflection for my son, Matthew McDaniel, a surfer
Pan-en-theism means everything is part of God even though God is more than everything added together.
​Developed by process theologians in the 20th century, but with precedents in many world religions, it is the view that the whole universe is unfolding within the mind and heart of a single life -- God -- in much the way that a living embryo develops within a womb. God is a womb-like Consciousness in whose life the universe unfolds, and the oceans and waves on our small planet, along with us, are among the cells in whose Life all things unfold.
This does not mean that everything that happens on our planet or anywhere else is God's will. The hills and rivers, the trees and stars, the oceans and the surfer -- all have their integrity and independence; all have power of their own which cannot be overridden by the divine life. God is all-loving, but not all-powerful; just as a Mother in whose womb an embryo unfolds may well be deeply loving, but not all powerful. Many tragedies occur that even God cannot prevent. They affect God even as they affect the world. God, too, can suffer. Still, just as a mother has a will, a desire, that her embryo enjoy safety and happiness, so it is with the Life in whom the universe unfolds. God is Love. God's aim is that we love our neighbors and the whole of life as we love ourselves.
Spirituality is the act of connecting with this Love. The word "spirituality" means many things, but most deeply it means becoming fully alive in whatever ways are possible, relative to the circumstances at hand, in a loving way, and in consonance with the Life in whose mind the universe unfolds. There are many moods the spiritual alphabet. Indeed, so we learn from the work of Mary Ann and Frederic Brussat in
Spirituality and Practice
, there is one and sometimes two for every letter: attention, being present, creativity, connectedness, courage, devotion, enthusiasm, faith, forgiveness, gratitude, hospitality, imagination, justice, listening, meaning, nurturing, openness, peace, play, questing, reverence, silence, transformation, unity, vision, wonder, X (the mystery of life), yearning, and zest for life.
The practice of surfing can open a person to many of these moods. It may be part of a new religion, as Bron Taylor suggests, and it may also find its home in a more traditional religion such as Christianity, as the video "Spiritual Surfing" makes clear, as narrated by an Episcopal priest. Surfing is a trans-religious practice that can be enfolded into many different religions and also practiced by people who are "spiritually interested but not religiously affiliated." It is a form of meditation and faith. It is faith that waves will come, even in tough times, filled with fresh possibilities for life and love, no matter what the circumstances. And it is faith that we can respond to these waves creatively, with skill and effort and a little balance., to help build a world that is good for all, as best we can.
- Jay McDaniel